Multi-Family & Commercial Contractor Serving Mount Prospect, Schaumburg, Wood Dale & Nearby
Professional quality roofing, remodeling & more in IL
Pro Home 1 is an established multi-family and commercial construction contractor for Dupage, Cook and Lake Counties. Decades of combined experience with complex construction projects have helped make the staff and our craftsman team one of the most experienced and knowledgeable exterior commercial grade contractors in Illinois.
Pro Home 1's multi-family and commercial contractor services include:
Siding and external renovations
Roofing services
Windows and doors
Decks, patios, and balconies
Pro Home 1's master craftsman status certified with many manufacturers guarantees premium workmanship standards for the quality products we provide. Our crew work closely with investment property owners, architects, various homeowner's associations and real estate management companies in order to obtain successful completion of work. It's a team effort, and together we are able to provide the best possible outcome for the job.
Before and After
Before

After

Vinyl Siding Repair and Gutter Installation in Wood Dale, IL

It was decided that these aging townhomes would have a few things updated to refresh its look. We replaced the siding, added decorative awnings to the front and rear, and also added all new gutters and downspouts. This was quite a successful makeover and the homeowners couldn't have been happier.
Installation and repairs for all of your needs
Whether you are looking for work done to a condominium, apartment building/complex, townhouses, or row houses, we have the solutions you're looking for. That's because we are one of the largest roofing, siding, and windows and doors companies around. When it comes to multi-family construction, we can take care of it for you. Whether it's a one-man job, or you need a crew of 200+, we can handle all of your needs – with ease, speed, accuracy, and efficiency.
Our multi-family and commercial services
---
Roof replacement and installation
Roof is the first line of defense when it comes to natural elements of wind, rain, sunlight, cold air and hot air. There are many aspects to consider when choosing a roof, including brand, style, color, durability, warranties and installation. Pro Home 1 offers top brands with a 5-year Labor Guarantee.
---
Siding replacement and installation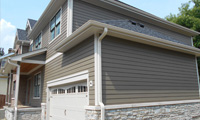 We offers highly-rated brands like James Hardie, Mastic, and Boral Versetta Stone with an array of designs, colors, types, styles and other features to choose from. Whether you prefer cement, stone or vinyl siding, a Pro Home 1 exterior specialist will help you find the perfect match.
---
Balcony reconstruction and railing systems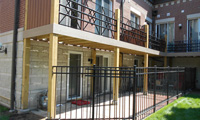 Balconies deteriorate in time; this includes structural settlement, wood deterioration, aging and decay, and wear and tear or wobbly railings. After prolonged use, railings and the structure itself may become unsafe. The Pro Home 1 team replaces weakening wood columns, installs proper footings, corrects sagging and settlement, and repairs or completely replaces cracking or broken hand rails.
---
Gutters, downspouts, soffits and fascia
We offer aluminum gutters, copper gutters, leaf relief gutter covers and soffit and fascia replacement. Our options are high-quality and durable products which unify with the look and feel of your existing siding and roofing. Installing the proper gutters system will protect your home from water damage and having the right soffit and fascia structures will prevent moisture build-up and further damage.
---
Attic exhaust and ventilation improvements
Proper attic exhaust and ventilation systems allow a continual flow of outside air through the attic resulting in efficiently maintaining an appropriate temperature in your home. An adequately ventilated attic helps to move cooking vapors and excess moisture build-up, as well as prevent ice from forming during winter months.
---
Call Pro Home 1 for the best results
No matter what roofing or remodeling services you're after, Pro Home 1 has the expertise and the products you need for a job well done. Call us at 1-844-801-2465 or contact us online today to get started on a multi-family or commercial project! We serve customers in Wood Dale, Schaumburg, Mount Prospect and areas nearby.
Looking for a price? Get a no cost, no obligation free estimate.