Learn More About The Types of Roofing Materials
The right roofing material from the right contractor will increase your home's value and protect what's inside!
Our Roofing Services in Illinois
Roof repair & maintenance
Roof replacement
New roof installation
Comprehensive roof inspections & estimates
Whether you are installing a roof for a new construction or replacing an older roof that is no longer doing its job, there are many choices in terms of the types of roofing materials available. Some of the different options include asphalt shingles, tile roofing, and more.
Factors that determine what type of roofing is best include the slope and complexity of the roof, as well as the style of the house, local climate and the cost of different roofing options.
At Pro Home 1 of Dupage, Cook and Lake Counties, you can trust that you'll have the best roofing in no time!
Contact us today for your free estimate. We provide quality roofing services, including roof repair, roof replacement and installation in Wood Dale, Schaumburg, Mount Prospect, and the surrounding areas of Illinois!
Products
Owens Corning Roofing Options
Owens Corning offers a wide variety of shingle options, all of which meet the highest standards of quality, durability, and appearance. The three main categories are architectural, specialty, and traditional shingles. Architectural shingles are available in many lines, including TruDefinition Duration Shingles and Oakridge Shingles. Similarly, specialty shingles include Devonshire Shingles, Berkshire Collection Shingles, Duration Premium Cool Shingles, and TruDefinition Duration Storm Impact Resistant Shingles.
Benefits of Owens Corning shingles:
A variety of color choices
Energy efficient options
Extensive warranties
Strong and durable
Roofing Shingles
GAF offers three distinct levels of shingle quality and protection, plus a remarkably affordable slate shingle option. We'll help you select the one that is right for your home's design and location.
Three-Tab (3-Tab) Shingles
Affordable basic protection for projects on a limited budget.
Timberline® Lifetime Shingles
Protect and beautify your home with Timberline®, North America's #1-selling shingles. Timberline® shingles now have a lifetime limited warranty!
Designer Lifetime Shingles
Beautiful, stylish, and exceptionally durable, Designer Lifetime shingles will make your home the envy of the neighborhood!
DaVinci Roofscapes is the manufacturer of a wide array of industry-leading, award-winning polymer roofing products. DaVinci roofing tiles are proudly made in the USA and are manufactured to overcome the natural weaknesses of slate and wood shakes, while delivering the most authentic-looking roofing materials available.
Composite Slate & Shake Roofing Tiles
DaVinci composite roofing tiles are designed to mimic the natural beauty of cedar shake roofs and slate roof shingles. Developed with a state-of-the-art polymer chemistry, DaVinci composite roofing tiles are not only beautiful but durable enough to protect and enhance the value of your home.
Why choose DaVinci?
Beauty: DaVinci composite roofing tiles are modeled from genuine slate and hand-split shake. The thick profiles and subtle surface variations help provide a natural appearance.
Performance: DaVinci roofing products are designed to meet the highest performance standards for wind, fire and impact. The tiles resist curling, cracking, fading, mold, algae and fungus and are backed by a lifetime limited warranty.
Color options: DaVinci roofing tiles are available in multiple color blends and solid colors and have superior color fade resistance.
Choose from an industry-leading selection of shingles, widths, colors, and blends.
The DaVinci product lineup includes a solution for every home:
Single-width slate
Multi-width slate
Bellaforte slate
Single-width shake
Multi-width shake
Belleforte shake
Fancy shake
And more!
---
Asphalt & asphalt fiberglass shingles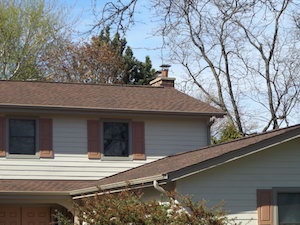 Manufacturers have created asphalt shingles that imitate the look of wood and slate while improving the durability.
Although these terms are used interchangeably, most roof shingles used today are technically known as asphalt fiberglass shingles. The fiberglass mat embedded in the shingle provides an extra measure of strength and tear resistance.
These shingles are the most popular type of roofing for sloped roofs because they're affordable, easy to install, durable, and available in a wide variety of colors. Premium grades of "laminated" asphalt fiberglass shingles are typically warrantied for 50 years.
---
Wood shingles & shakes
Wood shingles and shake roofs are beautiful, but can require more maintenance than other materials.
Wood shingles and shakes usually come from red cedar, Alaskan yellow cedar or Eastern white cedar. These evergreens produce wood that is dimensionally-stable and naturally resistant to rot and insect attack.
The main difference between shingles and shakes is that shakes are split from the log and have a rough, random texture; shingles have a smoother surface because they're sawed. A wood roof is expensive, and requires extra skill to install. That's why most people avoid installing this type of roof unless they're dealing with an historic house or want to recreate an antique look.
---
Clay & concrete tile roofing
Tile roofs have been used with Spanish style houses, but clay and concrete roofing products can be used with other architectural styles as well.
Clay and concrete tile roofing are often grouped together because they are both masonry roofing materials with similar installation requirements. Whether clay or concrete is used as the molding material, the end result is a roofing tile designed to overlap and/or interlock with adjacent tiles.
Clay and concrete tile roofs are well-suited for hot climates that don't have high rainfall; they shouldn't be installed in areas where heavy, regular rains and freezing temperatures are common.
---
Slate roofing
Slate is king of roofing materials due to it's durability. Homeowners may encounter problems trying to find a roofer that can properly maintain and repair slate roofs.
Most roofing slate used in the U.S. comes from slate deposits in Vermont and Pennsylvania.
Expensive to manufacture and tricky to install, this "stone" roof is among the most expensive available. When properly installed and maintained, a slate roof can last for 75 years or more.
---
Energy-efficient shingles
ENERGY STAR® qualified roof shingles can lower roof surface temperature by as much as 50 degrees Fahrenheit.
ENERGY STAR® rated shingles provide all the protection you expect for your roof while also helping increase the energy efficiency of your home. A cool roof is designed to reflect solar energy, decreasing the amount of heat that's transferred to your home's interior and the amount of air conditioning needed to keep it comfortable.
When installed properly, energy-efficient shingles can offer savings on energy bills. Reflective roof products can also reduce UV damage and extend the life of the roof. Many cool roof products qualify for energy rebates and incentives.
---
Choosing the right roofer is just as important as using quality materials
Pro Home 1 is a full-service roofing contractor, specializing in everything from new roof installations, roof repairs and maintenance to total roof replacements. It doesn't matter what type of roofing system we are working with, we always ensure quality workmanship, excellent customer service and a long-lasting, durable roof over your head.
Our roofers work throughout the Dupage, Cook and Lake Counties area, including Mount Prospect, Schaumburg, Wood Dale, Arlington Heights, Des Plaines, Wheaton, Palatine, Lombard , Naperville, Elmhurst and many parts of Illinois. Call us at 1-844-801-2465 today to schedule an appointment for a roofing estimate.
Looking for a price? Get a no cost, no obligation free estimate.