Expert Deck Builder in the Wood Dale, Schaumburg, Mount Prospect, IL area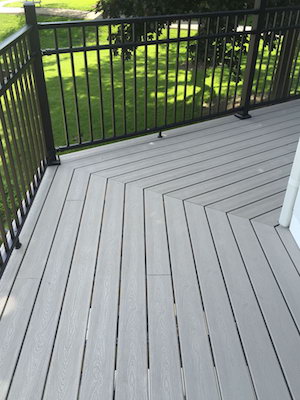 Customer Reviews
By Dan D.
Wheaton, IL

"They were very professional, fair on cost and went above and beyond to make sure that I was satisfied. Jason was great to work..."
Pro Home 1 is a BBB accredited, licensed and award winning contractor that excels in deck building & deck installation projects.
Decks can provide a much needed and important living space to your home. Designed and built the right way they also add significant beauty and enhance your home's value. Well planned outdoor living spaces also create a spirit of vitality for your home with more choices for entertaining, gardening and even a quiet place to escape with a morning coffee.
Whether you have a deck in need of professional replacement or want to start from scratch to create the perfect dream space, the designers and builders of Pro Home 1 are here to help at every phase from design, material selection, permitting to final construction.
Get a FREE estimate today on a deck building project or any other deck services in the Wood Dale, Schaumburg, Mount Prospect, IL area by clicking the FREE estimate button below.
Products
Composite Decking
Trex provides industry leading composite decking that includes several great benefits:
Maintenance free composite material
Three separate decking product lines
Multiple colors to choose from
Stairs, fascia, and accessories available
Install Trex Composite Decks and find out why Trex is the world's #1 decking brand.
AZEK began with a simple goal in mind - to offer a beautiful yet low-maintenance option for exterior trim. In business since 2001, AZEK has since built upon their success to offer some of the best looking, durable PVC trim options on the market.
AZEK Trim
AZEK trim is made from cellular PVC that consistently offers protection against the elements. Available in Traditional and Frontier finishes and many color options, you can completely customize the exterior trim details that your home is lacking.
Benefits of AZEK Trim:
Beautiful colors and styles
Durable, lasting material
Workable and malleable
Uniform appearance
Our Deck Services:
Deck design
Deck construction
Deck repair & restoration
Deck railing options
Deck framing
Wood decking
Vinyl decking
Composite decking
What type of deck construction materials are right for you?
Vinyl Deck
For a low-maintenance alternative to wood decking and railings, consider a composite or vinyl product.
Vinyl decking products are available in many forms, including hollow extrusions and cellular (solid) products. Hollow extrusions are frequently used for both decking and railings. On the other hand, cellular products enable manufacturers to create decking products with a more wood-like appearance for those who want a more natural look to their deck.
Why to Choose Vinyl: Vinyl decking products are now available in styles that look like wood but won't warp, splinter, rot, split or blister. Dirt can be washed off with a sponge and hose or with a pressure washer. Vinyl is a durable, low-maintenance option that will provide long-lasting quality.
Composite Decking
Composite decking can create the natural appearance of wood.
Composite decking, aka engineered wood products, come in a bewildering number of variations. Some offer solid boards while others are hollow. Some are "capped" or "co-extruded" with a layer of PVC while others are not. Some require multiple components for assembly while others are more like building with wood. What is common to all is they are made with recycled fibers, plastics, and binding agents.
Why to Choose Composite: Like vinyl decking, composite decking is pre-finished. Composites create the appearance of real wood decks, but they don't need staining or painting and require little maintenance. Dirt can be washed off with a mild detergent and a hose. Composites are environmentally friendly, too. Up to 95 percent of materials used in manufacture are from recycled sources. They include materials as diverse as wood flour, rice hulls, and plastic containers.
Wood Deck
Wood is the most popular decking material because of its natural appearance, versatility, and cost.
Wood is the traditional material for building decks, with pressure-treated Southern Yellow Pine being the most popular. Many of our customers choose pressure-treated wood for its affordability and longevity. For those who want the most natural look, cedar is the ideal choice because it naturally doesn't absorb water and won't twist or split.
Why to Choose Wood: Wood can be crafted in a wide variety of styles and painted or stained in an infinite number of colors. The initial cost of a wood deck is significantly less than a vinyl or composite deck. Properly constructed and maintained, it will be quite durable and will last for decades. In addition, wood can withstand high winds better than other materials. Unlike petro-based materials, wood, if sustainably harvested, is renewable.
As the local experts in deck building, we handle all the details:
Siting: There are many considerations, including your home's floor plan, orientation to the sun and prevailing wind, landscaping, and utility locations.
Size and shape: Decks are often thought of as distinct outdoor "rooms." There may not be any walls, but your deck may need to accommodate a cooking area, a dining area, a spa area, and a lounging area.
Traffic flow: For decks upon which a variety of activities take place, it's important to plan for traffic flow.
Railing styles: Railings are often the first thing you notice about a deck! Let us help you chose a type that suits your home and landscape – and that ensures the safety of your family and friends.
Privacy: We can offer solutions to homeowners who want privacy and have close-by neighbors, including trellises and pergolas.
Comfort: A deck isn't going to get used when the sun is blistering hot or when it's raining. Ask us about roomy retractable awnings that provide protection from the elements without cluttering up the deck.
Ready to build your ideal deck? Contact us for a quote!
If you can dream it, we can build it! If you're considering adding a deck to your home, give us a call or fill out our contact form to get started with your free estimate. When it comes to decks, we are Dupage, Cook and Lake Counties' experts, serving Palatine, Arlington Heights, Des Plaines, Elmhurst, Lombard , Naperville, Wheaton and surrounding areas.