Experience, Transparency and Dependability Make Us the Roof Repair Company for You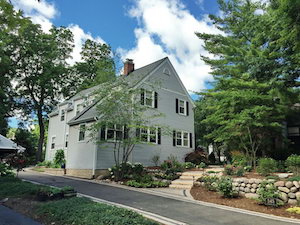 Lifting shingles. Shingle lifting is a typical roof problem that should be repaired to prevent roof leaks and water damage.
Pro Home 1 is a BBB accredited, licensed and award winning contractor that excels in roof repair services.
Minor tasks such as sealing leaks and replacing damaged shingles will preserve the life of your roof and maintain its quality. Additionally, it's often possible to put off the major expense of total roof replacement by making small spot repairs as necessary.
Whether you need roof repairs or a full roof replacement, we are the local roofers you can trust.
If you are experiencing problems with your roof, a thorough inspection, along with our roofing services, will give you the peace of mind of knowing that your roof is prepared to withstand any type of weather.
Get your FREE estimate today on a roof repair in the Wood Dale, Schaumburg, Mount Prospect, IL area by clicking the FREE estimate button below.
Stay ahead of things with proper roof maintenance
The type of roofing material creates different challenges for roof repair work. For example, asphalt shingles, wood shingles, concrete tiles, and clay tiles often have damage to individual shingles or tiles, meaning those pieces need replacement. Metal roofing generally comes in much larger panels, so those are only replaced when spot repairs aren't effective. Finally, flat roof repair is an entirely different process due to the rolled material and liquid waterproofing compounds.
No matter what type of roof you have, regular maintenance is very beneficial. There are several key reasons to perform consistent maintenance:
Prevent leaks, drafts, and other exterior problems
Stay aware of potential issues and fix them before they become major
Prevent expensive repairs in the future
Maintain appearance
By performing regular maintenance, you can keep your roof in good condition and prolong its lifespan, saving you the hassle and expense of full roof replacement.
Contact us today for roof repair and maintenance services in Dupage, Cook and Lake Counties
Whether your roof needs to be repaired or replaced, Pro Home 1 provides quality roofing solutions at a fair price. Our roofing services are designed to restore the overall structural integrity of your roof. Call us at 1-844-801-2465 or contact us online for a free estimate for roofing repairs throughout Des Plaines, Arlington Heights, Palatine, Wheaton, Elmhurst, Lombard , Naperville and nearby.